TV Technology IBC Best of Show Award for News Production Automation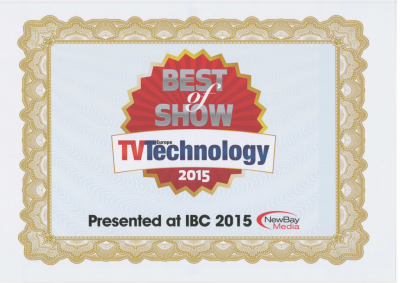 In Sept 2015, Aveco was honored to receive a TV Technology IBC Best of Show award for our ASTRA Studio News Production Automation.
Aveco's ASTRA Studio is the industry's first news production automation designed for multiple studio use. This capability includes pool-based resource sharing, bringing unprecedented efficiency into production operations. Explaining these capabilities requires context.
In times of breaking news and major events, every staff member wants to contribute. Aveco provides as part of News Production Automation, a unique pool-based Production Resource Manager. As all operations managers know, newsrooms are typically the most inefficient when resources are needed the most. Junior staff, out of enthusiasm, take up too many resources while senior producers and other staff are continually frustrated to secure the resources they need. Operations managers, in the middle, are commonly overstretched.
Aveco's ASTRA Studio Production Resource Manager optimizes efficiency through pooling resources and dynamically assigning resources based on priorities developed in an Operations Plan that is then automatically implemented to profoundly improve efficiency. It serves across the entire range of newsroom size from small TV stations to major multi-studio and multi-city national networks.
For example, when an unplanned high priority feed needs to be ingested as a part of breaking news, pressing one button has the ASTRA Studio Production Resource Manager access available resources, assign a path through router control to an available video server port which is locked for the priority level of that feed. It starts ingesting, assigns automatic metadata, applies notification rules to the assigned set of individuals and groups, accepts and distributes updated metadata. It integrates with transcoders to produce a proxy and live-and/or-fast turnaround web-coverage, accomplishes multiple MAM and web-CMS updates, updates an NRCS system, facilitates fast-turn-around news clips to air for breaking news reports while the ingest continues, continually updates a feed to a redundancy site etc. One button press by an authorized individual accomplishes this.
The multiple MAM use is distinctive; updates can include for example Avid Interplay, production asset management (PAM) of Quantel or EVS doing fast turn-around editing, the MAMs used at NRCS workstations (iNEWS, ENPS, Octopus etc.), editing systems for news and promotion, the content management system (CMS) of the web-news team etc. Multiple MAM integration is an important resource to efficiently synchronize news operations in one newsroom or a multi-city enterprise.
If breaking news is occupying a studio longer than initially planned, and the "next show" is waiting, with one press of a button, the next show assigned that studio can be re-assigned to a different studio. All media, production switcher settings, DVE's, CG's, virtual set scenes, camera robotics positions, video & audio playback, audio mixer settings, studio monitor wall settings, routing switcher assignments, audio mixer settings, audio server playout, lighting scenes etc. are instantly moved and the show is ready for on-air automation control.
If a high-priority need finds all video server ports occupied, for example, a junior-level staff member's task will automatically be paused, he/she will be notified of the re-assignment, along with management, and the lower-priority task continues once a resource is available. Naturally authorized individuals can override but the bottleneck of manual arbitration is replaced by a flexible well-considered operation plan.
The ASTRA Studio Production Resource Manager dramatically improves efficiency and ease-of-use in, especially, larger news facilities.
It's a godsend in breaking news.
As background, Aveco's ASTRA Studio Production Resource Manager builds on a 25-year legacy of serving approximately 300 TV broadcasters including some of the largest and most complex TV networks of the world. Designed for multi-studio operations and optimized for breaking news, it includes dozens of unique features. Contact Aveco or any authorized dealer for an online or in-person demonstration.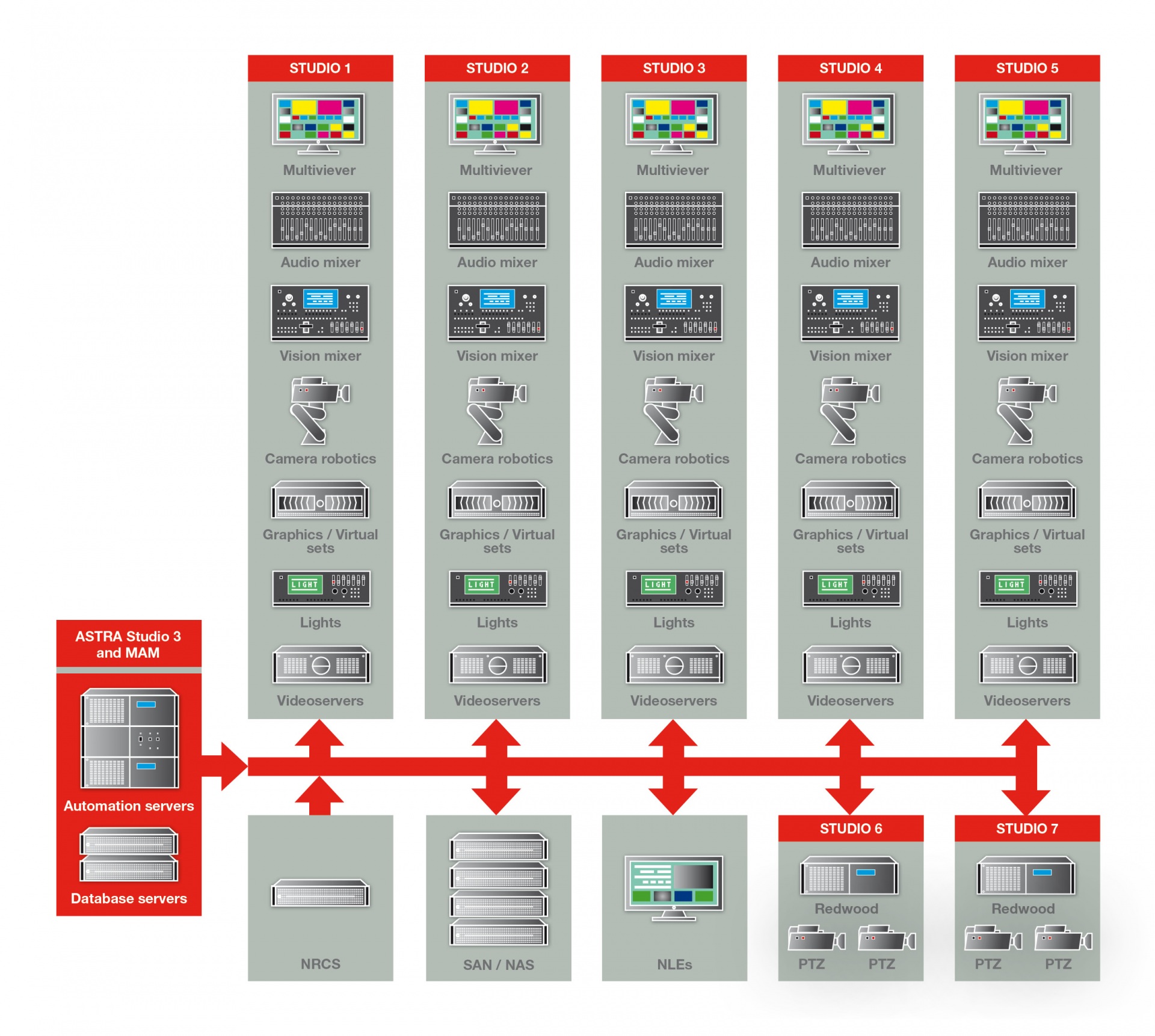 Example of ASTRA Studio 3 Production Resource Manager handling 7 studios as one integrated system at one of the global industry´s largest broadcast facilities