Aveco demonstrates the whole MAM and automation portfolio at NATEXPO
NATEXPO 2014, Moscow, 19-21 Oct, "Crocus Expo", pavilion 2, hall #8, booth A-31
Aveco offers two product families, ASTRA and Redwood.
ASTRA is a line of automation systems provided as a single integrated solution as well as independent products to provide functionality such as:
Ingest – mass digitization of archives, ingest manual, scheduled, from live sources, file ingest, ingest from solid media (XDcam, P2) as well as from VTRs
Media Asset Management – management of clips in all storages, clip transfers, format conversions, low res creating, control of archiving
News/Studio production automation – automation control of all equipment in the studio, while a single operator produces the complex news bulletin on air.
Master Control Playout – automation control of all equipment needed for on air playout: single TV channel as well as multichannel, mirroring as well as N+M redundancy, opt-out channels.
Regional program insertion – ASTRA supports several models: Centralized, Hub, Dual and Edge models
Disaster recovery – Disasters happen. And Aveco has the answer to the question "what happens if my facility is hit by a disaster?"
Redwood Studio is the world's first News Studio-in-a-Box solution. It combines world class automation software and media asset management with integrated playout hardware that includes a 4 ch HD video server, 32 layers of graphics, production switcher capability with 6 channels of DVEs, audio server, audio mixer, control of camera robots all in one box. It is a cost effective way to put a news or studio show on air quickly and cost effectively often being run by a single operator.
Redwood Play offers similar capability for master control.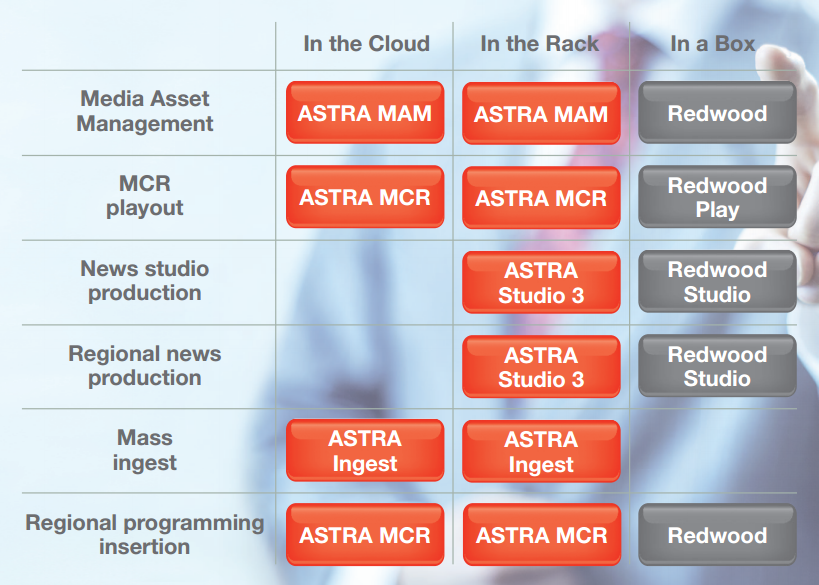 We provide our customers several key values:
Stability : Aveco has been here since 1992 and, if you need us ten years after purchase of our products, we are here to help
Independence : As an independent manufacturer Aveco glues all equipment brands into seamless workflows without any corporate policies
Broad range of solutions : in the Cloud, in the Box or in the Rack. News, playout, MAM, regional insertion, and many more
Staying at the cutting edge : We listen to our customers and we assist our customers to grow and adopt new business models and technologies as they wish, from onair to online, from linear to social media, from high end to News Studio in a Box, the only integrated studio automation package available on the market.