Key message to the US market: Jared, Orbiters, SHS
Aveco presented the latest achievements to the Americas based customers at NAB 2008. And, here are the most important bullet points - Jared Pieper, Orbiters and SHS: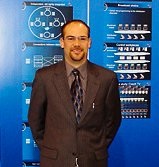 Jared Pieper has joined Aveco as the senior engineering force. Jared has experience from installing and supporting Aveco automation systems in Europe and Asia. His responsibility will be to take technical care of current customers as well as for newcoming projects.
Orbiter is the new Aveco automation architecture that is able to handle large multichannel broadcasting facilities.
BackOffice automation server runs the database server and takes care of ingest, media management and other functions that are shared across the whole automation.
Orbiter servers take care of control of playout. Each Orbiter controls all devices dedicated to the relevant broadcast chains. The BackOffice server as well as the Orbiter servers are mirrored. In case of main Orbiter failure the mirror Orbiter takes over the control within 5 frames and continues in airing the programs. And - this architecture has been already used on air.
SHS architectural concept gives more freedom in utilizing broadcast chains as well as assigning crews. SHS is built around terms like distribution channel, broadcast chain, playlist, control workplace. SHS allows transfer playlist (and therefore the aired program) from one broadcast chain to another at anytime, even during airing of a clip. By using SHS the operators can go to any control room and get control of any broadcast chain. This functionality can be used in various circumstances:
In complex N+M redundancy scenarios
In optimizing usage of mixed HD / SD environments
IIn optimizing crew allocation
Our solution gets to such a details as control of the telephone exchange and intercom systems; a call to the operator of TV channel 4 always reaches the proper person, wherever that person is at that moment.
And, of course, we presented the newest versions of our automation products
News automation system that allows a single person to produce live news bulletin
Astra - time-based playout for master control automation
Procon - spot playout for master control and newsroom manual assist automation
Web Interface - for media management, metadata entry and integration to NLEs
Astra Light - a condensed version of any AVECO functionality in an out-of-the-box workflow sold to turn-key solution providers on a 2U PC server with a maximum of 12 control ports. Astra Light can be a simple stand-alone solution or it can be integrated with larger Astra hub systems for exchange of playlists, metadata and coordinated media management.