NAB 2015 Wrap-Up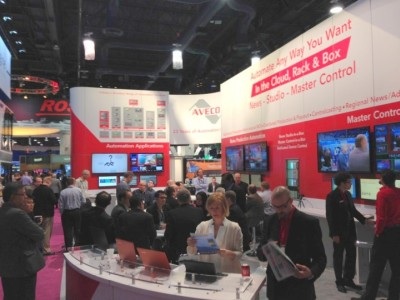 Prague 04.05.2015 - this NAB had exceptional emphasis on broadcast IT, virtualization and cloud-operation of master control and production automation, and, software defined TV networks - areas where Aveco has excelled throughout our 23 year history. As the industry's only client-server automation platform, we've been IT-focused leaders for decades and at NAB we further extended that lead.
Aveco´s NAB theme was "Automation any way you want - In the Cloud, Rack and Box" and at the show our demonstrations showed how Aveco's products could easily adapt to any type of workflow broadcasters have today or plan for the future.
We released our third major generation of news production automation, ASTRA Studio 3, which features many innovations for high-end news production, with special emphasis on automation-assist during breaking news. Our production automation MAM integrates with other MAMs, allowing unparalled speed in finding and getting on-air clips that are needed in breaking news. ASTRA Studio 3 works in both larger studios with discreet devices and smaller studios with our unique Redwood Studio in a Box.
ASTRA Studio 3 is the only production automation designed for multi-studio operations - it allows moving a production from one studio to another with one click. All video, audio, production switcher settings, graphics, virtual sets, camera robotics, lighting, audio board settings etc to instantly move. Aveco is the only production automation with integrated facility management, orchestrating the pool of equipment easily not only to move productions but to accomplish major events, such as elections, with unprecedented efficiency. Let us set up an online demonstration to see the industry's most advanced production automation and we'll be happy to follow up with a visit to your facility for a more in-depth discussion.
It's never been so important to have an open system, to not get pushed into "bundles" from manufacturers. No company has the best components across the entire broadcast chain. Aveco works with all manufactuctures and at NAB we further extended our lead with a number of new additions to the industry's largest library of interfaces, implemented API's and core-software integrations. This includes the ability to integrate with multiple databases and MAMs, providing unparlleled workflow efficiencies.
Aveco is the only independent manufacturer of production automation, and the only manufacturer with both production automation and master control automation. With us, it's one system. Among other things, our automated cue exchange eliminates the small switching errors between pcrs and mcrs, our system better utilizes staff in one-or-more locations and we consistently improve on-air production quality.
At NAB we featured one of our quality customers, JOIZ TV, whose social-media broadcast innovations have caught the eye of many global broadcasters. JOIZ uses Aveco production automation, master control automation, MAM and workflow automation along with its extensive in-house social media portal platform. Aveco has many pioneering "firsts", including many unique integrations with social media and second-screen applications.