Aveco NAB 2017 Wrap Up
With FCC approval, the full-scale launch of ATSC 3.0 in the US made this an historic NAB. Congratulations to all involved for this great achievement.
It was an historic milestone for Aveco as well – 25 Years of industry-leading automation!
Of course, there was the NAB team picture!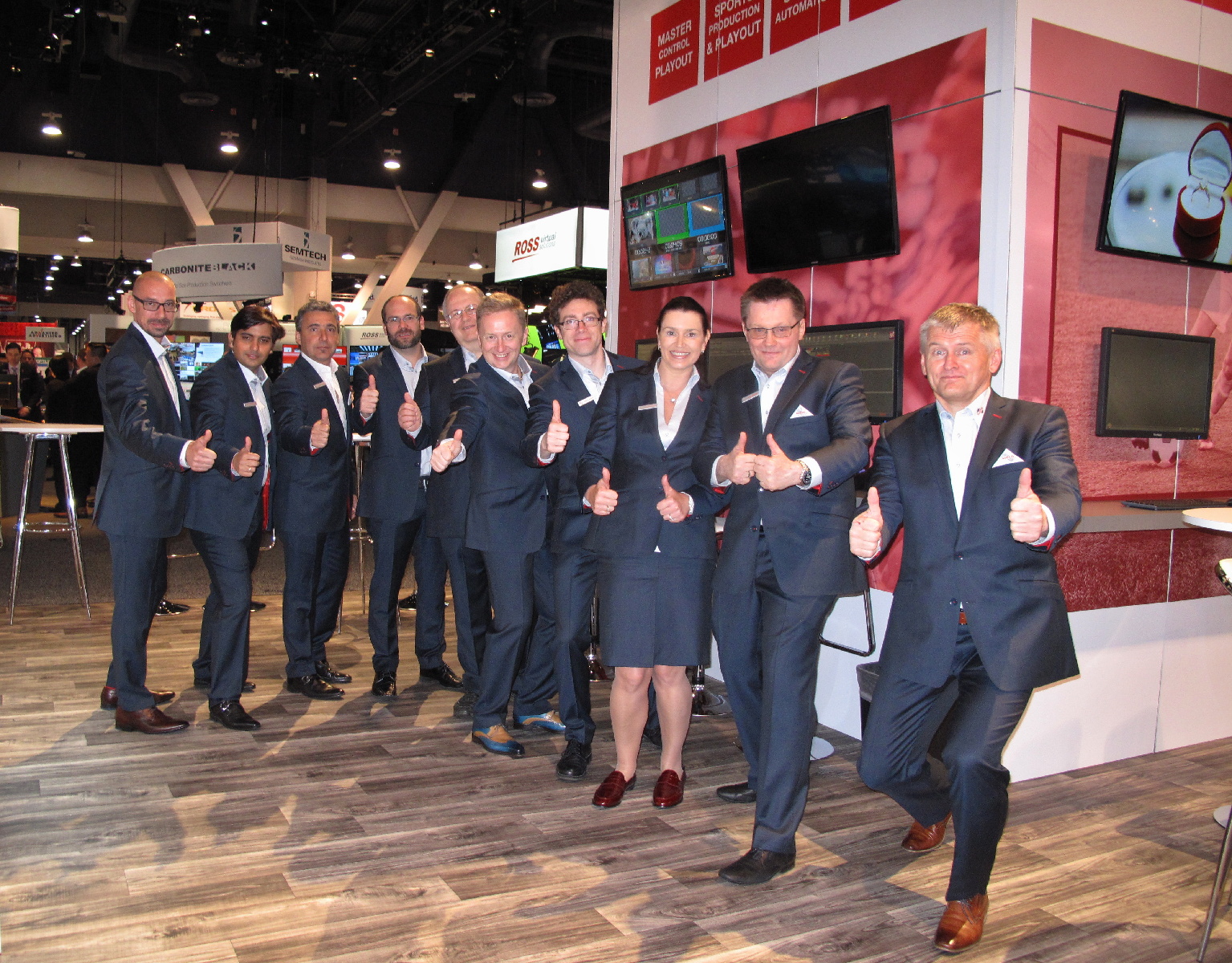 Aveco team at NAB 2017, includes Pavel Potužák,CEO and Josef Zadina, Sales Director.The Aveco team at NAB 2017, includes Pavel Potužák, CEO (far right) and Josef Zadina, Sales Director (location in photo).
Las Vegas, US, April 28, 2017 — on such anniversaries, it's fitting to thank our customers - the over 300 broadcasters who've trusted us with their networks and whose inspiration to keep at the cutting edge has kept us, year after year, producing great new automation innovations in master control, production automation and MAM.
Aveco has achieved many "firsts" in automation, and this year one of those innovations is the first effective sports play-sponsorship in master control. Some sponsors want touchdowns, goals, home runs, three pointers, aces, sixes, while others want blocks, interceptions, sacks, great catches, blocks, winning-returns, run-outs etc.
For years, Aveco has had alternate lists, like others, but now we've developed dedicated buttons on standing orders from traffic so a MCR operator can instantly press (in US football) "touchdown", "sack", "field goal", "interception", "long run", "long pass", etc. and that graphic-plus-video instantly goes on air, in a DVE window or full-screen. The as-run log is updated and the commercial counter is incremented. Never has there been such a fast and easy way to accomplish play-sponsorships. The major global broadcaster with whom we developed this says it's the first time such play-sponsorship is reliably possible. It's not good enough to roll from graphics in a truck, multiple sponsors need to be managed, trucks don't integrate with traffic etc. MCR sports play sponsorship with Aveco is a great innovation.
At NAB, Aveco also launched "Story Designer", a new, revolutionary way for reporters to more easily control how their story goes to air when using production automation. It has enormous potential for breaking news. While other systems, because of their complexity, require a show-preparation person to ready a rundown, Aveco's led the industry in allowing reporters to select the correct templates in iNews, ENPS, Octopus and four other newsroom systems – no show-prep person required – supervision now takes seconds! This speeds up the process. Now, Story Designer easily allows fast, easy changes to the templates.
For example, if a reporter in the field is planning to interview a VIP, the reporter selects a "two-shot", but, if a second person important to the story is reached and ready, the reporter can — with one Story Designer click — change it to a three-shot. The TD, director or producer accepts this, and all staff see the rundown update. Aveco's automation will select the updated DVE EMEM on the production switcher, path-find through the router to the expected input, apply normative values to the audio mixer and in one instant, the updated breaking news coverage is ready for air.
These are just a couple of Aveco´s innovations this year – and for 25 years, Aveco has been the most innovative broadcast automation company.
Here are a few of our other "firsts" in automation development:
The industry's first dynamic traffic interface in MCR automation, 25 years ago, many years before BXF.
The first and still the only facility equipment pool manager that's part of automation, for 25 years. This results in unprecedented efficiency in developing and applying media operations priorities (e.g., in breaking news, senior execs get resources while interns wait – unless the intern's on a task for a senior exec.)
The first and still the only "self-healing" automation system. Using this operations plan, for example, if a two-port MCR video server fails, we automatically put the dedicated two-port backup video server to air. However, assuming you have sufficient resources, wouldn't you now want to automatically assign two ports from the equipment pool to be the new backup? This instantly happens with Aveco.
The first and still the only integration of Master Control Automation and Production Automation. It's time for intercom hand-over from PCR-MCR to move to automated cue exchange with Aveco — if it's strictly manual there will occasionally be blips of black or up-cuts. Letting Aveco guarantee the last frame of video from a spot break is always followed by the next frame of video from implementing continuation of the newscast.
The first and currently the only automation provider that manufacturers a serial switch-over unit. Many devices require serial control for frame accuracy, Aveco's switchover time is typically one frame of video; routing switcher manufacturers have abandoned RS-422 levels making Aveco's switch especially important.
The first and still the only automation system to integrate multiple MAMs and PAMs.
The first automation system to accomplish news wheels for inexpensive news channels.
The first automation system with a Social Media Gateway to, for example, send promotional tweets using an internal 140-character field, just before shows or news.
Aveco is the largest independent automation provider, giving broadcasters broad choice in selection of the best equipment, not getting stuck in "bundles" with inferior products.
Aveco has the largest library of interfaces, API integrations and native integrations.
Aveco accomplished the first master control "cloud" project.
Aveco is the only automation system running on a virus-free server core – which contrasts with Windows which recently passed the one-million-per-day new viruses and malware. Aveco's software clients are on Windows-Macs-Linux but the core stays safe.
Our automation legacy of 25 years continues with Aveco increasing its lead in this part of the industry – and in 25 more years we fully expect to still be independent and continuing to innovate faster than any other provider.