Portuguese version (English version follows):
Aveco na SET EXPO: O Mundo Aberto da Automação e Operações Centralizadas
Desde o seu início em 1992, a Aveco vem liderando as soluções em automação e operações centralizadas. Embora haja um número de pessoas que talvez nunca tenham ouvido falar da Aveco, é importante saber por que nos distanciamos de outros provedores nos mercados em que atuamos.
Primeiro, somos uma empresa aberta. Isso significa que, embora tenhamos nossas próprias soluções de hardware, trabalhamos com quase todos os fornecedores de equipamentos de produção e controle mestre. São parcerias que pagam grandes benefícios para nossos usuários, como será apontado mais adiante.
A Aveco está sediada na República Tcheca, com escritórios em Miami, Atlanta, Denver, Cidade do México, Bogotá, New Delhi e Moscou. Atendemos mais de 300 clientes na Europa, nas Américas, na Ásia e na África, desde operações complexas de vários canais e multi-sites até pequenos sistemas autônomos, e desde instalações completas de produção e playout até produtos individuais. Todos com suporte 24 horas por dia de uma empresa estável e de capital fechado, com um compromisso de longo prazo para crescimento estável e suporte pontual.
Nosso trabalho é simples: ajudar as empresas de mídia a se tornarem fábricas de conteúdo, produzir, gerenciar e entregar conteúdo de maneira confiável, eficiente e com o máximo impacto.
Mas essas são apenas palavras. Vejamos uma das noss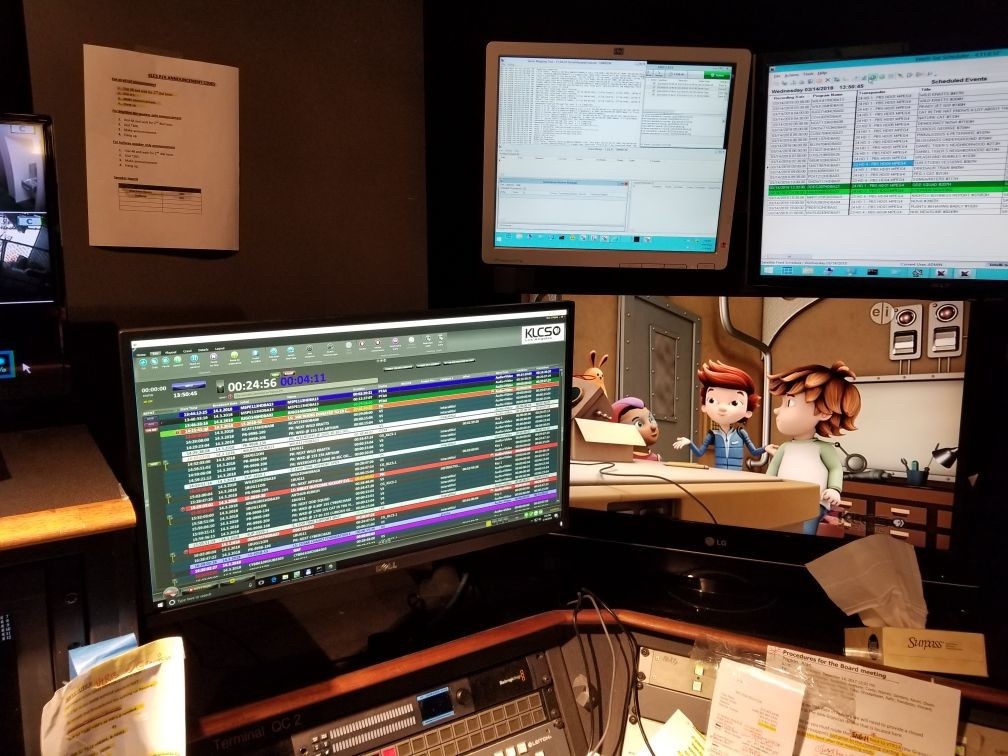 as recentes instalações na KLCS, a emissora pública de Los Angeles.
A estação foi 100% baseada em file-based por quase 15 anos. Portanto, eles não são estranhos para implementar e usar tecnologias avançadas. Mas agora eles queriam todas as eficiências que o digital e o IP podem oferecer para sua reconstrução. A KLCS optou pela automação de controle mestre da Aveco com gerenciamento de ativos integrado. Aqui é onde uma grande parceria com outro fabricante entra em cena. Essa plataforma de quatro canais incluiu a primeira implantação do BXF 5.0 do setor com o Myers ProTrack. Trabalhamos em estreita colaboração com todos os fabricantes, para que possamos alavancar as tecnologias uns dos outros para o benefício de nosso cliente em comum.
Este sistema é tão avançado que Alan Popkin, Diretor de Engenharia e Operações Técnicas da KLCS, disse: "Alguns dos recursos avançados, como interface direta BXF 5.0 para o sistema de tráfego Myers ProTrack e a capacidade de usar RSS para personalizar nosso alcance Nossos membros, baseados no cronograma, fornecem eficiência e novas oportunidades para interagir com o público. Do ponto de vista da engenharia, a ampla variedade de dispositivos que a Aveco controlará e a facilidade de integrá-los tornaram a escolha óbvia para nós ".
Nós temos a mesma reação ao redor do mundo. A emissora regional suíça La Télé Vaud e a Fribourg TV SA instalaram recentemente um novo sistema de automação de produção de notícias Aveco ASTRA Studio. Nessa situação, o integrador de sistemas e provedor de soluções IMC Technologies atualizou os estúdios Lausanne e Fribourg com a automação de produção de notícias Aveco ASTRA, o Octopus NRCS e a edição de notícias e MIM do INCITE. Outro ponto de prova da cooperação do fabricante.
Agora vamos analisar um caso de operações centralizadas. No Peru, expandimos a automação ASTRA MCR e os sistemas de gerenciamento de conteúdo ASTRA CMS da Media Networks Latin America, uma empresa da Telefonica,
Não apenas expandindo de 32 canais para 68 canais, mas expandindo para um segundo local. Existem 32 redes de TV sob o controle da Aveco em Lurin, ao sul de Lima, e 36 canais em Higuereta, perto do centro de Lima.
Os dois locais estão conectados através de uma rede de alta velocidade que permite que o ASTRA MAM gerencie conteúdo de ambos os locais como um sistema único, grande e centralmente localizado.
Gianfranco Di Paolo, Gerente de Projeto e Planejamento de Redes de Mídia da América Latina, disse: "Para Higuereta, o recurso de site remoto da ASTRA nos proporcionou a melhor solução de fluxo de trabalho para permitir que os dois sites fossem um grande sistema. Podemos gerenciar o conteúdo de ambos Assim, você pode pensar nisso como uma forma de central de transmissão onde qualquer local pode assumir o controle do outro. Na verdade, qualquer um dos canais de cada site pode ser transmitido de qualquer sistema de controle mestre naquele site. Modelo de redundância +1 para controle de playout com um sistema ASTRA BackOffice totalmente espelhado para o sistema de gerenciamento de conteúdo O sistema de playout sobressalente pode controlar até oito canais.
A Aveco trabalhou em estreita colaboração com a Grass Valley, integradora de sistemas, que projetou o sistema com o ASTRA da Aveco, controlando servidores Grass Valley e roteadores Grass Valley. O ASTRA também integrou o detector de tom cue baseado em Ethernet da Videoframe, que eliminou a necessidade de centenas de portas GPI. A Aveco possui a maior biblioteca de interfaces e implementou APIs na indústria e é o maior provedor de automação independente.
Como você pode ver, podemos fazer com que quase qualquer operação funcione melhor e mais inteligente, e trabalhamos com os fornecedores de produtos que você escolheu, para que você tenha exatamente o tipo de sistema que procura. E em alguns casos, mais do que você esperava.
English version:
Aveco at SET EXPO: The Open World of Automation and Centralized Operations
From its start in 1992, Aveco has been leading the way in automation and centralized operations. Most of the people within the industry know of Aveco and it's important to know why we stand apart from other providers in the markets we serve.
First, we are an open company. That means that even though we have hardware solutions of our own, we work with almost every provider of production and master control room equipment. Those are partnerships that pay big benefits to our users, as will be pointed out later.
Aveco is based in the Czech Republic, with offices in Miami, Atlanta, Denver, Mexico City, Bogota, New Delhi and Moscow. We serve over 300 customers in Europe, Americas, Asia, and Africa, from complex multi-channel, multi-site operations to small standalone systems, and from complete end-to-end production and playout facilities to individual products. All with 24-hour support from a stable, privately-owned company with a long-term commitment to steady growth and timely support.
Our job is simple: to help media companies become content factories, to produce, manage, and deliver content reliably, efficiently, and with maximum impact.

But those are just words. Let's look at one of our recent installation at KLCS, the public broadcaster in Los Angeles.
The station has been 100 percent file-based for almost 15 years. So they are no stranger to implementing and using advanced technologies. But they now wanted all the efficiencies that digital and IP can deliver for their rebuild. KLCS opted for Aveco master control automation with integrated asset management. Here's where a great partnership with another manufacturer comes into play. This four-channel platform included the industry's first BXF 5.0 deployment with a traffic system, the Myers ProTrack. We work closely with all of the manufacturers, so that we can each leverage each other's technologies for the benefit of our combined customer.
This system is so advanced, that Alan Popkin, Director of Engineering & Technical Operations for KLCS said, "Some of the advanced features, such as direct BXF 5.0 interface to the Myers ProTrack and the ability to use RSS to customize our outreach to our members based on schedule, provide both efficiencies and new opportunities to interact with our audience. From an engineering perspective, the wide range of devices Aveco will control and the ease of integrating them made the choice an obvious one to us."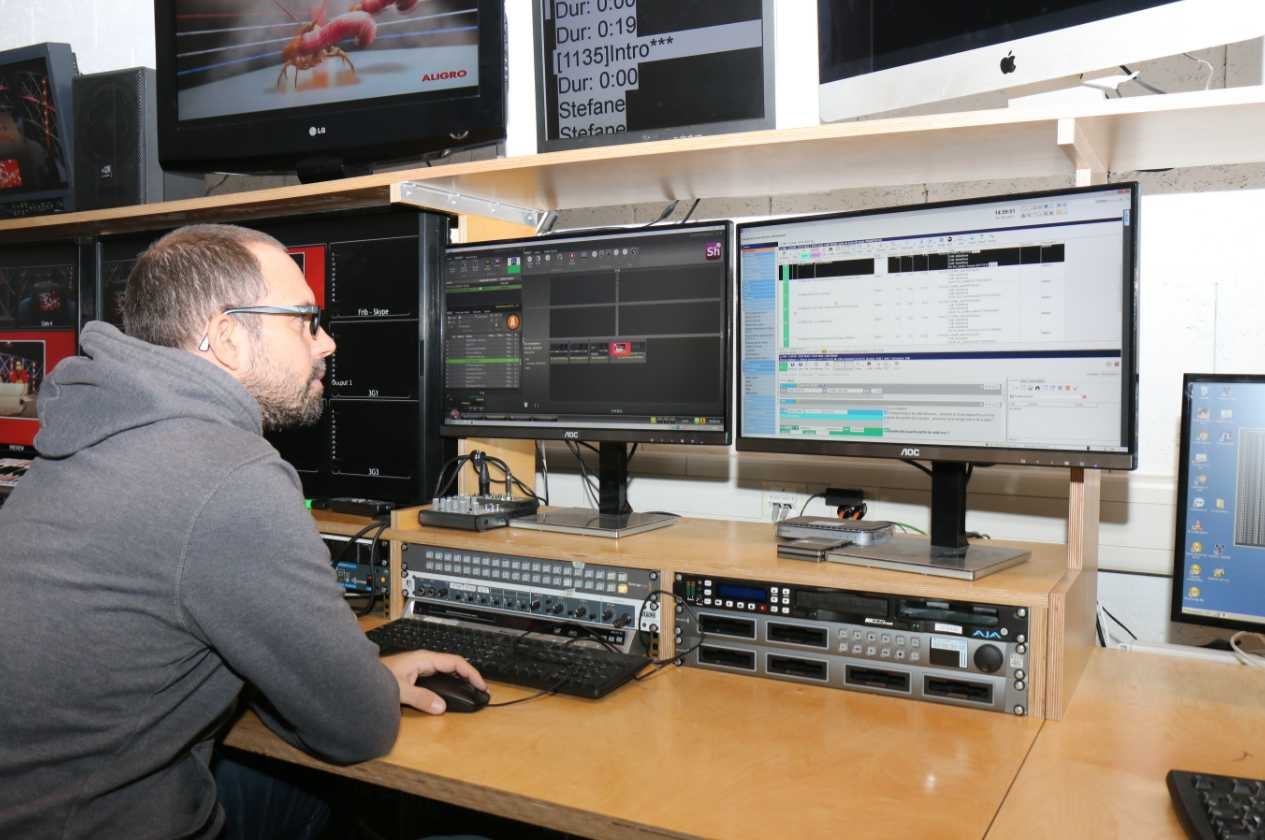 We get the same reaction around the world. Swiss regional broadcaster La Télé Vaud and Fribourg TV SA recently installed a new Aveco ASTRA Studio news production automation system. In this situation, systems integrator and solution provider IMC Technologies upgraded Lausanne and Fribourg studios with Aveco ASTRA news production automation, Octopus NRCS, and IMC's Incite MAM & news editing. Another proof-point of manufacturer cooperation.

Now let's look at a case of centralized operations. In Peru, we expanded the ASTRA MCR automation and ASTRA CMS content management systems of Media Networks Latin America, a Telefonica company.
The Media Networks system has expanded to two locations - 32 channels in Lurin, south of Lima, and an additional 36 channels in Higuereta near central Lima.
The two locations are connected via a high-speed network which enables ASTRA MAM to manage content from both locations as a single, large, centrally-located system.
Gianfranco Di Paolo, Manager of Project and Planning for Media Networks Latin America said, "For Higuereta, ASTRA's remote site capability provided us with the best workflow solution to enable us to treat both sites as one large system. We can manage the content of both locations from either site." So you can think of this as a form of centralcasting where either location can take control of the other. Indeed, any of each site's channels can be aired from any master control system at that site. It uses an N+1 redundancy model for playout control with a fully mirrored ASTRA BackOffice system for the media asset management system. The spare playout system can control up to eight channels.
Aveco worked closely with Grass Valley, the system integrator, who designed the system with Aveco's ASTRA controlling Grass Valley servers and Grass Valley routers. ASTRA also integrated Videoframe's Ethernet-based cue tone detector which eliminated the need for hundreds of GPI ports. This integration has further enhanced the Aveco's interface library, the largest of the industry.
As demonstrated, we can make almost any operation work better and smarter, and we work with the product vendors you have chosen, so you get exactly the type of system you'll looking for - and we are sure, a system that's even more than what you expected.