Aveco App Accelerates News Story Production for Avid MediaCentral | Cloud UX Users
Story Designer allows journalists to insert production cues into the story section of the MediaCentral | Rundown browser application for more storytelling control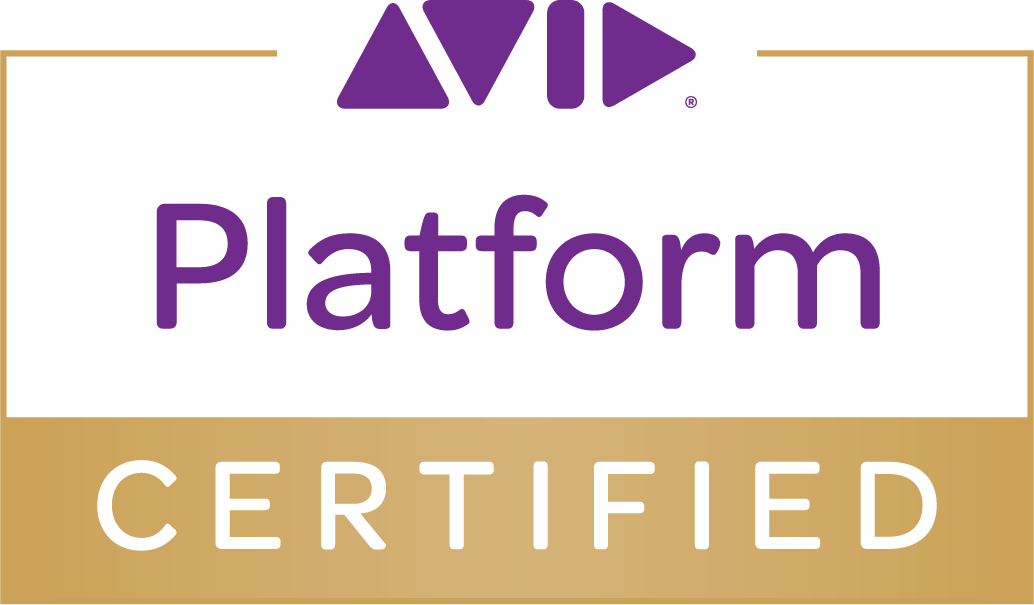 Prague, Czech Republic, September 17, 2020 — Aveco®, the media industry's largest independent automation provider, today announced that its Story Designer App for Avid®'s MediaCentral | Cloud UX™ media workflow platform has been certified by Avid to integrate Aveco's ASTRA Studio News Production Automation with Avid MediaCentral | Newsroom Management.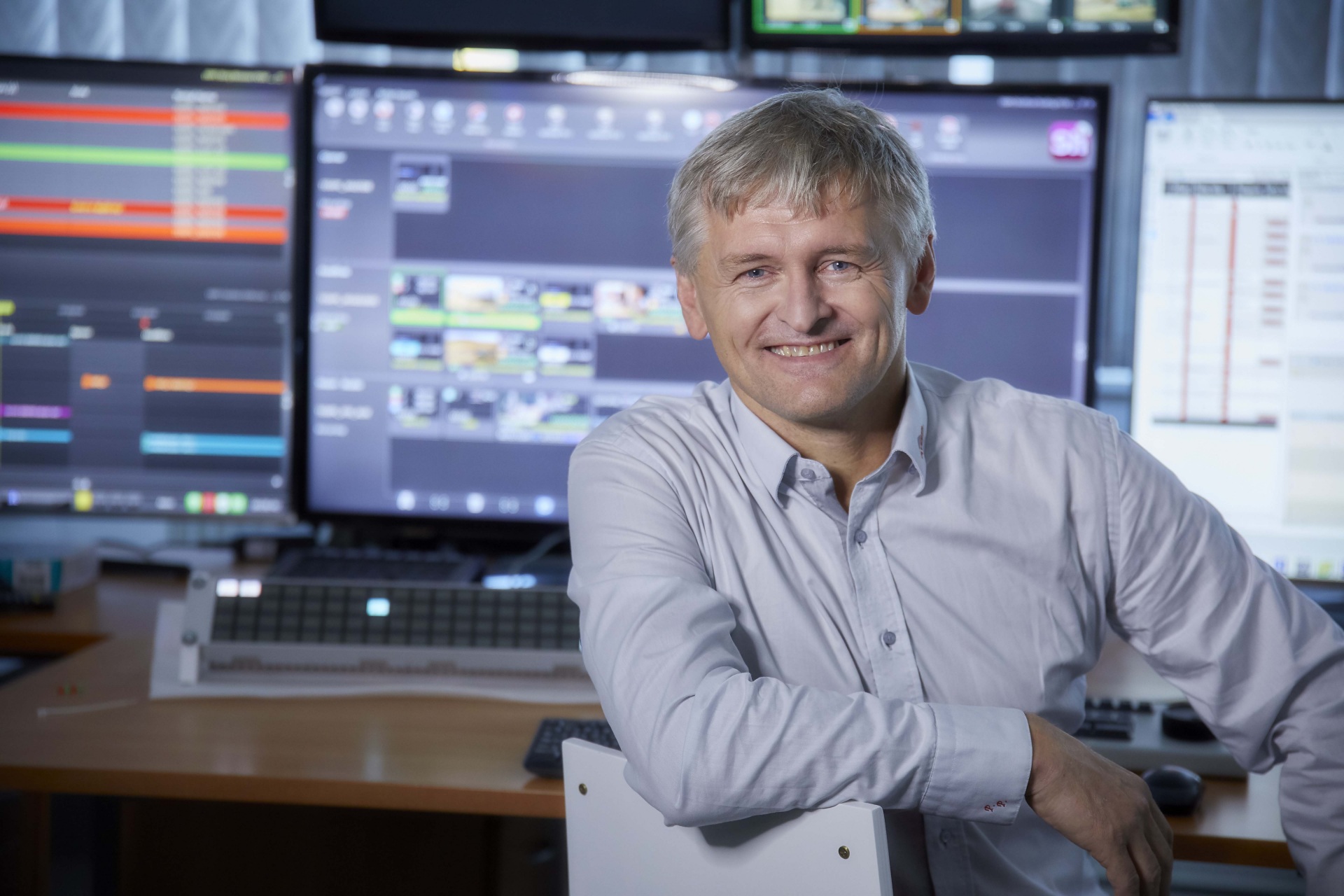 Aveco's Story Designer allows journalists to insert production cues to define the style of a story, together with technical parameters such as cameras and graphics. The story is then produced live under control of Aveco's ASTRA Studio based on those journalist-provided production cues.
"The unified user environment — the MediaCentral | Cloud UX, where our app is seamlessly integrated — makes news workflows easy to learn and easy to use," said Pavel Potuzak, CEO of Aveco. "Behind the GUI, there are other layers of integration between ASTRA Studio and Avid solutions, this integration streamlines studio production to deliver visually attractive stories to all distribution platforms, while reducing OPEX."
"Extending Avid-based newsroom workflows with Aveco studio automation enables our users to run more comprehensive story-centric news workflows from content creation to distribution," said Ed Caracappa, Senior Director of Global Alliances at Avid. "In this way, studio events can be included easily in the editorial workflow to increase their efficiency and break news faster across all the platforms they serve."
Aveco's Story Designer provides journalists more control of how their story is produced on air. Aveco's story templates are easy to define - they contain all elements of studio control. They radically simplify news operation while increasing production value. More stories of higher quality are produced faster with the same amount of staff. Story Designer is a remarkable tool, especially in busy times of breaking news. Individual stories easily get a unique look and feel. A staff "news-preparation" staff member is no longer needed - as soon as the story template is specified, it's ready to go to air.
Aveco's ASTRA Studio News Production Automation controls all equipment in the news production control room and studio, including graphics, camera robotics, production switchers, audio mixers, video servers, lighting, backdrop screens, monitor walls and more. It puts a show on-air with maximum impact and minimum staff. ASTRA Studio can be seamlessly integrated with ASTRA MCR —Aveco's playout automation solution. The automated cue exchange simplifies the operation of even the most complex channels, eliminating the occasional blip of black or up-cut that comes inevitably from time to time in manual hand-over between PCR-and-MCR during live news production.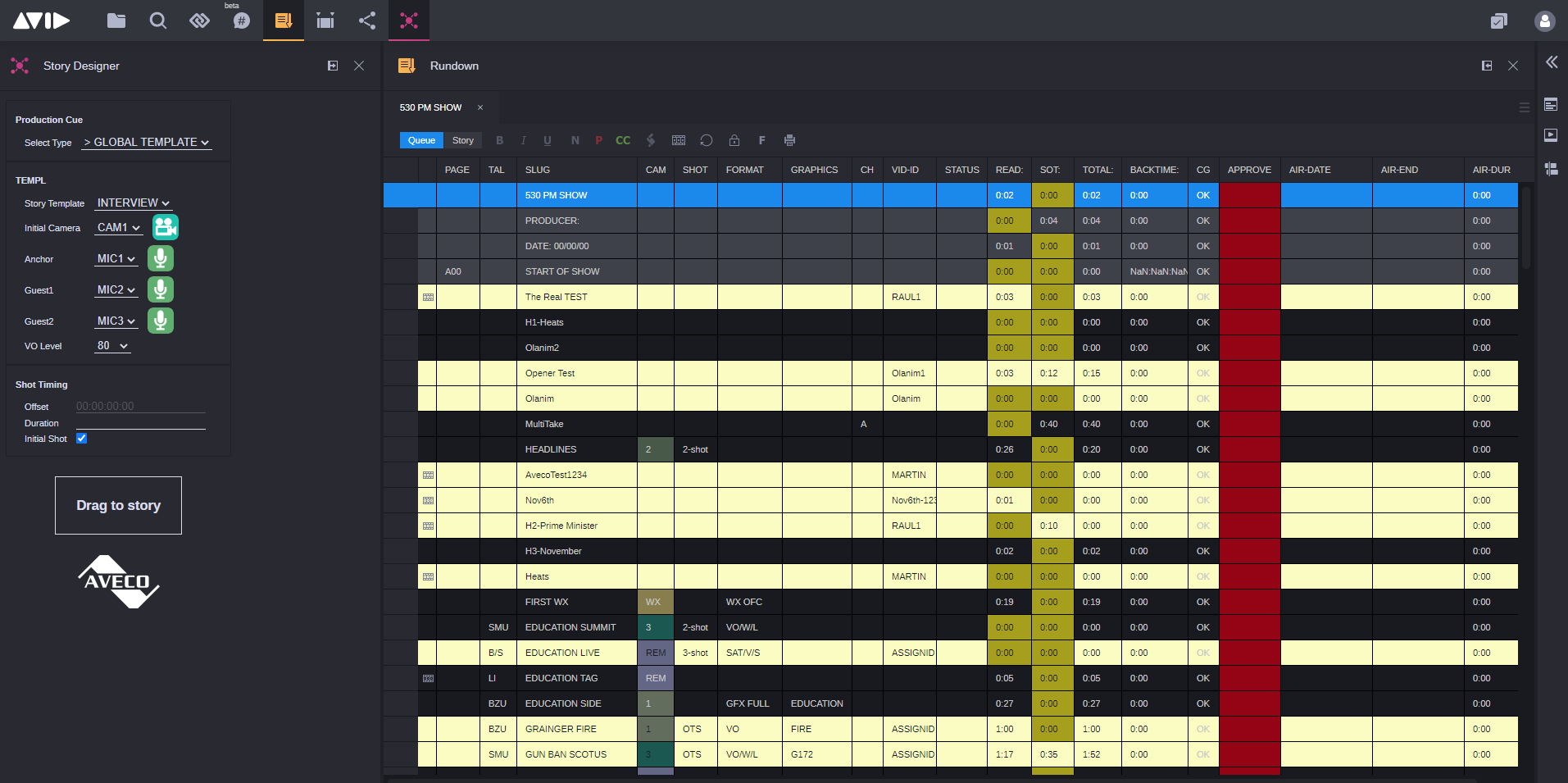 Caption: Aveco Story Designer (left) and Avid MediaCentral | Rundown (right) as shown in Avid MediaCentral | Newsroom Management
About Aveco
Aveco, based in the Czech Republic, the United States, India, Russia and Thailand, designs, sells, and supports studio production automation, master control automation, and integrated channel playout systems worldwide. Varieties of architectures are available, from complex multi-channel, multi-site operations to small standalone systems, and from complete end-to-end production and playout facilities to individual products. With more than 300 customers in Europe, the Americas, Asia, and Africa, Aveco has the technology and experience to deliver any workflow, to control any third-party device, and to provide media companies the reliability and 24-hour support Aveco is known for. In 2019, the company was awarded the IBC Innovation Award in the Content Everywhere category for its automation work for ETV Bharat for the automation system that drives the 24 studios and 24 full time news channels in 13 languages for mobile news consumption. Since its formation in 1992, Aveco has remained a stable, privately-owned company with a long-term commitment to steady growth and timely support.
Whether a news broadcaster, general entertainment channel, music channel, or shopping TV organization, Aveco helps media companies become content factories, to produce, manage, and deliver content reliably, efficiently, and with maximum impact.
Avid, the Avid logo, MediaCentral, and MediaCentral | Cloud UX are trademarks or registered trademarks of Avid Technology, Inc. or its subsidiaries in the United States and/or other countries. All other trademarks are the property of their respective owners. Product features, specifications, system requirements and availability are subject to change without notice.
More information is available here at www.aveco.com, by emailing info@aveco.com, or by calling our Prague headquarters at +420-235-366-707, our New Delhi office at +91-989-901-1397, our Bangkok office at +66 (0) 828 170 113, or our Los Angeles office at +1-818-292-1489.